Product Details
We all know how challenging it can be sometimes to make a perfect cake.

Get the best looking cake with our Cake Pipping Nozzles. They make it so much easier to decorate cakes, cupcakes or really any pastries. Make your next celebration more outstanding with really beautiful cakes.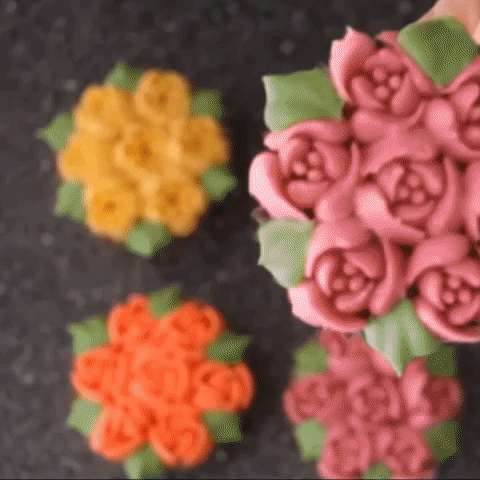 You can get totally creative with 13 different piping nozzles which are included in every set!
Features:
Includes 13 pipping nozzles
Perfect for decorating cakes, cookies, cupcakes or any pastries
Made from 100% stainless steel
Eco-friendly
Perfect as a gift
Money-back guarantee
Instructions:
Please, keep in mind thicker icings tend to work best with Cake Pipping Nuzzles. To get the best results, you can use this buttercream recipe:
1 teaspoon of Pure Vanilla Extract = 4 Oz
1/2 cup of solid vegetable shortening
1/2 cup of butter or margarine (softened)
4 cups of sifted confectioner's sugar
2 tablespoons of milk
First, get a large bowl and beat 1/2 cup of shortening and 1/2 cup of butter with electric mixer. Mix it until it becomes light and fluffy. Beat in 1 teaspoon of vanilla extract.


Gradually start adding 4 cups of sifted powdered sugar - add 1 cup at a time, beating well on medium speed. Scrape sides and bottom of bowl often.

After all sugar is mixed, icing will appear dry. Start adding 2 tablespoons of milk, beat at medium speed until light and fluffy.
FAQs & Shipping Info
Where are you based?
We're happily based in Harrisburg, PA - the capital of PA, and America's hearts.
How does shipping work?
Faraday partners with global merchants and artisans in order to provide you the best prices and the most interesting products.
This means that your order is shipped from global areas such as Thailand, Tibet, China, India, etc. Unfortunately our global suppliers do not provide tracking numbers but we do offer a 100% satisfaction guarantee.

Because we ship directly from our partners in these countries, your item may take 3-5 weeks to arrive. Please do not panic if it does not show up immediately, it's on its way :)
We offer international shipping options too - no matter where you are, you can buy from us!
What if I need to return something?
No worries! Contact us right away and we'll help guide you through the process - we'll send you a prepaid mailer to send the item back.
How do we contact you with press inquiries?
Send us an email via this form and we'll get back to you as soon as we can.